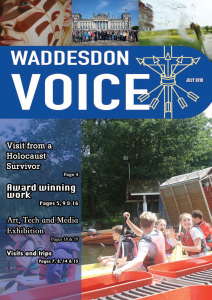 This edition of the Waddesdon Voice is another celebration of the work of the whole school community, from Year 7 to Year 13. I am confident that you will find articles and pictures which will make you think and which will also make you smile. At the end of a busy and productive year, it is good to reflect on the richness of what Waddesdon offers and the distinctiveness of our ethos which characterises our school.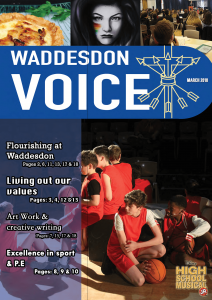 A very warm welcome to the spring edition of the Waddesdon Voice! As you will see and read, since the November edition, our young people have had further opportunities to showcase their talents and to engage with a broad range of enriching activities and extra-curricular opportunities. Our students are the life of our school and so I am delighted that more students than ever are contributing to the magazine. I would also like to encourage you to read our two guest editors' recommendations and to thank Mr Paviour for his work on designing the magazine.
Welcome to this year's autumn edition of The Waddesdon Voice. As you will see, it is packed full of student work and gives a flavour of our students' remarkable achievements. I recommend that you take time to look at the art work and read the articles which catch your eye.