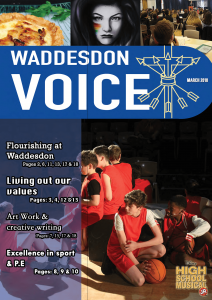 A very warm welcome to the spring edition of the Waddesdon Voice! As you will see and read, since the November edition, our young people have had further opportunities to showcase their talents and to engage with a broad range of enriching activities and extra-curricular opportunities. Our students are the life of our school and so I am delighted that more students than ever are contributing to the magazine. I would also like to encourage you to read our two guest editors' recommendations and to thank Mr Paviour for his work on designing the magazine.
Welcome to this year's autumn edition of The Waddesdon Voice. As you will see, it is packed full of student work and gives a flavour of our students' remarkable achievements. I recommend that you take time to look at the art work and read the articles which catch your eye.
Last month we recieved three routine monitoring visits from an experienced Ofsted inspector, working for the Bucks Learning Trust. This was not a full Ofsted inspection; it was more of an annual health check designed to enable us to understand how we are doing. As I am sure you would expect, the report identified lots of strengths. I have picked out just four to share with you in the newsletter.